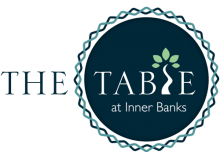 Farm to Table Restaurant in Edenton NC
Located at the Inner Banks Inn, The Table restaurant is one of Edenton's finest dining establishments. We partner with local farmers and waterman to bring you the freshest local and sustainable ingredients, creating a distinctive and upscale cuisine we like to call Ocean – River – Farm to Fork.
The Table is well known for our delicious plates, outstanding service and charming atmosphere. Come and experience for yourself! Enjoy your meal in our dining room, a converted carriage house boasting high ceilings and hardwood floors, or dine al fresco on our enchanting patio.
Whether you're staying at the Inner Banks Inn, or just visiting beautiful Edenton, we hope you will join us for lunch or dinner service. We also offer a weekly Jazz Brunch, every Sunday from 11:00 a.m. - 3:00 p.m.­
Edenton Wedding and Event Venue
If you're planning an Edenton wedding or special event, look no further than The Table at Inner Banks. Our culinary team will work with you to create a memorable menu, and our staff will ensure your event is planned down to the smallest detail. We can accommodate up to 100 people at the Inner Banks Inn and up to 500 at our sister property, The Links at Mulberry Hill. Please visit our website for more information on our wedding and event packages.