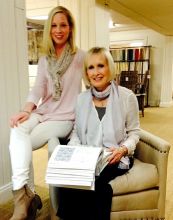 Cindy Gandee and Anne Farless began working together in 2012 when Anne joined summerhouse as a recent design school graduate. It quickly became apparent their design philosophy and style was complimentary so, while they each work independently with design clients, they also collaborate on larger projects. Together they bring over 30 years experience in interior decorating.
The following principles original to Myquillyn Smith from "Cozy Minimalist Home" aptly describes the summerhouse design studio philosophy:
We believe that a home exists to serve people, not the other way around. 

We believe it is a sacred calling to be watchful about what we bring into a home and purposeful about what goes out.

We believe unique style always trumps trends, and that an uncomplicated home is a blessing to everyone who enters it.

We believe that empty spaces are just as important, beautiful, and useful as filled spaces.

We believe home is an ever-shifting combination of grace, coziness, abundance, simplicity, form 

and

function.

We believe that it doesn't have to be perfect to be beautiful.

We believe it doesn't have to be cluttered to be cozy and that it doesn't have to be modern to be minimal.

We believe we can have more style with less stuff.

We believe it's worth it to get our home looking the way we've always hoped, so we can use it the way we've always dreamed. 
Please stop in summerhouse and visit the Design Studio located on the lower level.