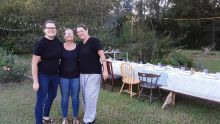 Ollie Inglis has spent her life working with Mother Nature. From growing up and helping on her family's Somerset Farm in Edenton and studying environmental studies at UNC-Chapel Hill to managing an entomology lab and working in landscaping, almost every piece of her background relates to working with the Earth. A primary way that she does this is with food.
In Ollie's family, their farm determines each day's meals. Ingredients are taken from the land and turned into meals in the kitchen. They use the produce that they have on hand depending on the season. Fish come from the Yeopim River. Hunters give the family venison in exchange for hunting privileges on the Somerset Farm property. Ollie remembers that, growing up, there was always fresh bread in the kitchen, baked that day by her mother and grandmother.
"We didn't do much grocery shopping. We still don't," she says. Eating tomatoes in the winter was as foreign to her as what she calls "foldy bread" (those flimsy loaves found on a shelf). The Inglises grew what they ate, and they appreciated the quality of farm-fresh ingredients that were cultivated with care. There's a beautiful simplicity to this practice. It seems almost romantically quaint in today's world where many consumers leave the grocery with a shopping bag full of bananas from Brazil, tomatoes from Canada and avocados from California. It's a lifestyle that Ollie is bringing back to the larger community, reminding them how delicious and pleasurable it is to sit down for a family-style meal where you connect with your neighbors, environment and food.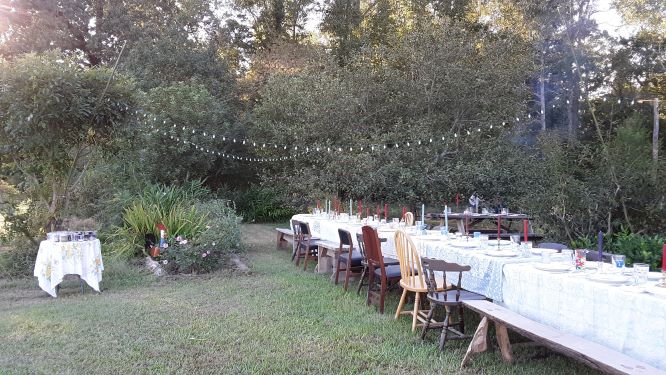 Ollie has always loved cooking for people. While managing an entomology lab, she decided that she didn't love bugs quite enough to dedicate her life to studying them. She switched gears and started attending a culinary program at Central Carolina Community College. There she met Kelly Burton, an instructor in the Natural Chef program. Ollie distinguished herself with her homegrown expertise and innovative understanding of food, and Kelly began working with her individually in private cooking classes.
The two continued cooking together long after Ollie's studies ended. They started (along with another chef) Porch Light, a community supper club that presents a themed meal made from fresh, local ingredients. Porch Light's events maintain a small and personal focus, usually as a meal in someone's home or backyard where those attending gather around a table like a family during a special occasion.
The themes for each dinner unleash the women's imaginations. They often take a topical or esoteric theme, interpreting it with international cuisines to inspire the ingredients that are on hand. In the spirit of Guy Fawkes Day, for example, a dinner's menu featured England's favorite cuisine, Indian. Porch Light's diners enjoyed butternut squash samosas, kale paneer, butter smothered cabbage and coconut curried hot chocolate. An event near Cinco de Mayo served up Mexican-inspired dishes like adobo-roasted fish, leek and goat cheese tacos, orange-avocado salsa and horchata.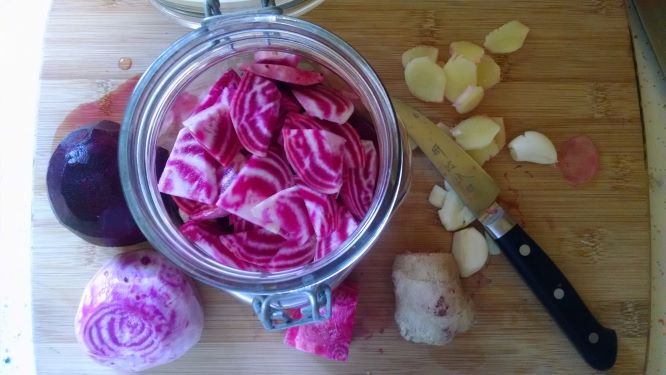 Ollie and Kelly understand that a meal relies on Mother Nature, and what they end up serving their supper club may vary from the original menu. It all depends on what's freshest and in best supply. This forces them to approach each event with a relaxed flexibility. They have no problem making adjustments or substituting alternative ingredients in the moment. They believe that what we want to eat is a decision made by our environments. Instead of fighting it with mediocre ingredients from far-away places, Ollie works with the flavors that nature gives her.
For Ollie, food is all about connecting: It connects consumers to their location that produced the fare and to cultures that the dishes reflect. The element of adventure also accompanies eating good meals and trying new flavors. When people do it as a group, the experience bonds them together. It's this sort of connectivity that Ollie wants to channel, whether through Porch Light's supper clubs, introducing shoppers to exotic vegetables at farmers' markets or simply cooking with her family.
You can find Somerset Farm on Facebook or at the Secotan Market in Wanchese. For information about Porch Light farm dinners, email Ollie at ocinglis@gmail.com.
Photos: Courtesy of Ollie Inglis